Puffin/Gannet and Eagle Workshop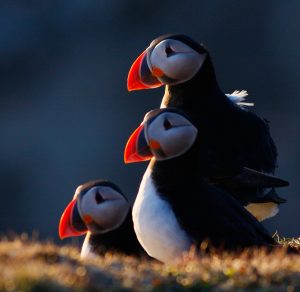 8 days workshop May/June at Alta folkehøgskole, Alta, Norway, with 3 days trip to a Puffin bird colony at one special island. We will give you exiting days and a wonderful experience with a lot of photo oppurtuneties. This island has probably most different bird spieces of all similar nesting-places in Norway. In addition; the landscape is also great! The timing is also good: in June the bird activity is peaking and the nature looks green and fine, but mostly – the light is the best with midnight sun and 24h photography. We also visit another area with a gannet colony with the highest density of Wt eagle.  Dates 2019: 29th May to 5th June.
Contact: askeland@naturfoto.net
Photograph wild wolves and bears in Eastern Finland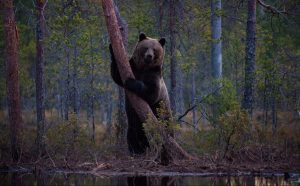 From well-equipped hides in Kuhmo on the Russian border, we give you excellent chances to take close-up action shots of wild wolves and bears, which at our feeding places can be enticed to as close as 20m from our hides.  It is not unusual to capture wolves and bears in the same shot!
Dates 2019:   Contact by e-mail
Max 11 places
Price: NOK 10900,- (starting from Alta, Norway)
Experienced English speaking course leader/guide.
(Starting from Alta, Norway with minibus to Finland. Camping std overnight acc. both south and northbound. Hostel std room in Bear-camp with sleeping bags).
Price does NOT include flights to and from Alta, Norway.
First evening in Alta we will photograph northern lights if weather permitting.
In Kuhmo it is possible to hire photographic equipment (Nikon professional camera bodies and telephoto lenses).
We occupy the hides from late afternoon to early morning. The hides are insulated and have soft rubber floor, so we recommend that participants take a sleeping bag, as nights can sometimes be cold. There are sockets and screws for mounting of tripod heads (sturdy ball heads or gimbals are best), but no tripod is needed. It is best if you take your own ball head, but a few are available for loan. We take packed food to the hides, but bring a thermos flask for tea or coffee if you have one. Otherwise some are available for loan.
The hides are situated in several different locations in the forest marshes along the border with Russia and we will have the chance to sit in different hides on different nights. Bear sightings are more or less guaranteed and wolves highly probable. All hides are a short walk from the road and we strongly recommend long rubber boots, especially after rain. Some hides are situated within the border zone, so take your passport along in case you are asked by a Finnish border patrol to identify yourself. The animals will of course not come close except when we are in the safety of the hides!
Other likely sightings are golden and sea eagles, goshawk, ravens and possibly elk, wolverine.
During the day we can enjoy the taiga environment around the log cabin where we stay (cabin has electricity, warm water and wireless Internet), swim in the lake, take a traditional Finnish sauna, catch up on some sleep, pick berries in the forest, download and compare our photos from the previous night, and enjoy good meals made with fresh local produce. Professional photographers will hold lectures, give photographic advice and constructive comment on participants´ photos.
Contact: askeland@naturfoto.net
Arctic Light / Aurora Borealis Workshop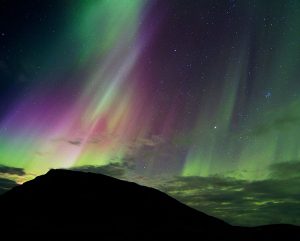 When we reach the last days of November and the sun is well under the horizon here at 70 degrees north – something magic happens! It is not completly dark. Alta becomes nirvana for nature photographers. Long hours with blue light of the Arctic, ice and frost smoke over the sea. And strong possibility for the Arctic light – Aurora Borealis!
Alta has a long history as a place for scientist to observe Arctic light – starting in the beginning of last century. We will do the same thing with our modern cameras – seeking sea reflections and great landscape to match the light. After each day-trip we work with our files in the computer lab, and show our material to get response from each other. 5 days workshop at Alta folkehøgskole, Alta, Norway.
Dates 2019:  6th – 10th  November.
Contact: askeland@naturfoto.net
Bird photography workshop Alta / Varanger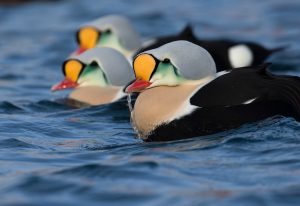 Travel in winter-Finnmark to Varanger looking for Stellers Eider, King Eider praktær-fugl, White-tailed Eagle and experience the harsh and beautiful landscape of the sub-arctic. The area by the Varanger Fjord is well known for its birdlife, maybe one of the best winter birding locations possible. The fishing villages and coastal landscapes alone justifies the trip. Overnight accomodation in Alta fhs or huts with electricity – most nights also wi-fi (internet). Included in price is overnight acc, transport after arriving in Alta, Norway, all meals except 2x dinners when on the road. Also included is boattrip with RIB with bird in flight photography and one night in a floating hide (on the sea). One extra night can be bought on site. Also time for photographing Northern Lights (Aurora). A lot of tips for better photographs; birds, landscape and low-light/Aurora. More info when contacting us on e-mail.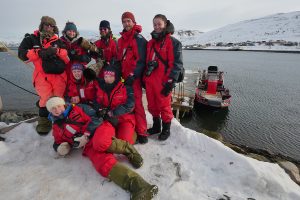 Dates: TBA
Small groups, max 14 paticipants.
Course leader: Per Arne Askeland, teacher in nature photography at Alta folk high school, Alta, Norway.
Contact: askeland@naturfoto.net